Tuition & Fees
Welcome to North Clackamas Christian School and thank you for your interest. Please look over our tuition and fee schedule along with different payment options and discounts that we offer. If you have any questions concerning tuition, fees and discounts, please email our Business Manager to help with any questions that you may have!
2021/2022 K-12 Education Tuition and Fees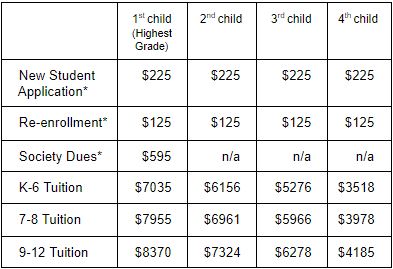 2021/2022 Preschool Education Tuition and Fees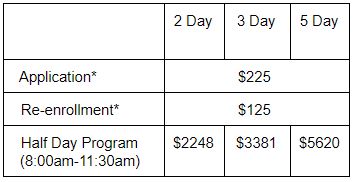 PAYMENT PLANS
PLAN 1 - One payment: Due July 1st (2.5% discount)
PLAN 2 - Two payments: Due July 1st & January 1st (1.25% discount)
PLAN 3 - Nine payments: August 1st through April 1st ($50 set-up fee)
PLAN 4 - Twelve payments: June 1st through May 1st ($50 set-up fee)
*Indicates non-refundable items
ADDITIONAL FEES
$35 per yearbook, due beginning of the school year
(6th grade) $275 Outdoor School, due beginning of the school year
(8th grade) $25 Advancement Fee, due beginning of the school year
(12th grade) $100 Graduation Fee, due beginning of the school year
Fees for class field trips & participating in ACSI events (assessed at time of event)
Additional fees for participation in sports, music, & drama (assessed at time of registration)
FINANCIAL AID
Priority is given to returning families first. Financial aid applications for K-12th grade students must be made through FACTS at the time of re-enrollment. At this time financial aid is not given to preschool families.
---
Part-Time Student Enrollment
Part-time student enrollment is dependent on availability in the student's grade.
Part-Time students are welcome at NCCS! Please click on the link below for more information.
---
Extended Day Program (EDP)
-Intended as a service to fill in the gap between a parent's work schedule and school dismissal time
-First come/first served with advanced sign-up for students in grades K-6th (no preschool)
-No drop-ins
-Consistent use only (sign up in advance and used on a regular basis)
-Session 2 (PM) will have designated homework, social, physical activity and enrichment time
-Charged on a daily rate through NCCS billing according to the sign-up for the reserved spot. No refunds for days a student is absent.
Rates are charged on a daily rate and are as follows:

Session 1 @ $5/day= 7:30-8:15 AM
Session 2 @ $15/day = 2:30-5 PM
---
Athletic Fees
| | | |
| --- | --- | --- |
| Grade Level | Per Sport | Cap Per Student |
| Grades 9-12 | $235 | $470 |
| Grades 7-8 | $195 | $390 |
| All Other Grades | $125 | $250 |
NOTE
: Sports fees cap at two sports; third or subsequent sport is free.
---
International Students
Click HERE for information